Det meste i denne post er lånt fra en artike i Samvirke fra 28. januar 2011 af Liv Mygind. Læs hele artiklen her.
For English info about this cool packing material – check out the EcoCradle company recipe and much more here.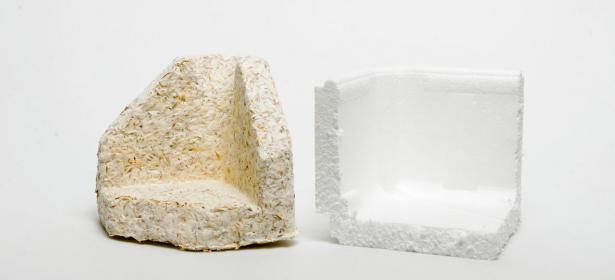 Svampeflamingo er lavet af affald
EcoCradle har konsistens som en riskage. Men i stedet for at være produceret af olie, som flamingo er, er det dyrket af landbrugsaffald og svampe. Det er ikke giftigt, og du kan spise det, selv om det nok ikke smager særligt godt.
Det var to amerikanske ingeniørstuderende, Eben Bayer og Gavin McIntyre, der opfandt EcoCradle. De var fascinerede af svampe, der groede på træflis. Svampene var meget effektive til at binde de små stykker træ sammen, og det inspirerede dem til at tænke på svampene som en slags lim. EcoCradle kan dyrkes af enhver type planteaffald, som for eksempel træspåner og frøskaller fra ris eller bomuld. Først koges skaller eller træstykker og blandes med svampesporer. Miksturen hældes i en støbeform. Og så venter man bare.
I en til to uger vokser svampene ved at spise det organiske materiale og fylder formen op. Når svampene er vokset til den ønskede facon, vendes de ud, og derefter tørres de, så de holder op med at gro. Dette resulterer i en riskagelignende emballage, der er god til at absorbere stød og beskytte en vare. Derudover vejer EcoCradle næsten ingenting, er vandtæt, ikke brandbar og indeholder ingen giftige kemikalier.